A bunch of "Top Teachers" have gotten together to host a Facebook Posting Party. Chances are you are here as a result of that. Thanks for taking time to stop by. I know some of you have yet to begin your summer vacation and others have just barely begun but if you are like all the other "Top Teachers" out there, you are already "Gearing Up" for what the 2012-2013 school year is going to bring.
With that in mind, I decided to pull together a bunch of my favorite creations to give you for FREE!
This 17 page PDF
will give you a taste of the types of products I like to make. I'm always glad to create new sets and I may already have elaborated on some of the ideas you will see. I'd welcome your feedback in the comments section and would even consider doing some more custom design if you have a need. Most of my design work results in a theme set that runs between $3.00 and $6.00 depending on what you want in it.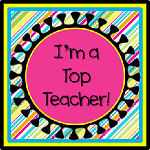 Don't forget to go back to the
facebook page
and click on some of the other Top Teachers to see what kinds of information they share on their blogs and what FREE item they may have posted.